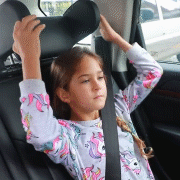 Safe & Comfortable Car Nap Time
We recommend this product because it's mainly designed to provide both adults and kids over 100cm neck support while falling asleep in the car, protect passengers head banging on the car window, giving a safer and more comfortable nap time.
Easy to Install
The car headrest neck support is detachable, quite easy to set up and has multiple adjustable settings, pads can be folded up and down with 180°rotation or out of the way when not in use. 
Retractable Design
Made from high-quality ABS material on retractable support rod, stable and safe. It can be adjusted to the width of the pillow according to the width of the seats. Fit for car seats with headrest bars.
How to Use
Firstly, choose the suitable rubber washer to fix on the car seat headrest bars. Then fix the retractable support rod onto the rubber washer. Finally, use the screwdriver to screw the covers tightly.
Why Choose us?