Stay fit at home and strengthen your immune system!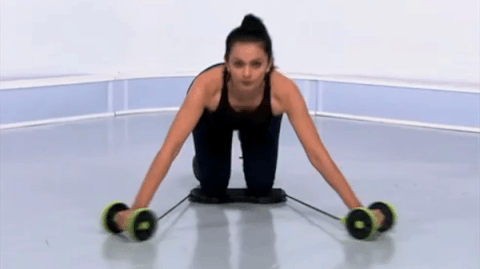 Want to build the body you've always desired, but just can't seem to get?
No matter how many crunches you do or how many ab exercisers you buy, you just can't get that 6 pack you've always dreamed of?
The FitPro™ MultiTrainer is the perfect solution to help achieve your fitness goals. Save your money, time, and space with our redesigned MultiTrainer.
It makes working out your abs easier and more effective with advanced rolling technology. However, it's not just an advanced ab roller, it can help you train your Full body anywhere you want. It's light weight and compact design allows you to take it on the go or even keep it under your bed.
Customer Story: Susan began her journey with our MultiTrainer after trying multiple abs workouts and spending hundreds on various crunch machines and dumbbells. After nearly giving up on her fitness goals, she came across Gym Mystery and fell in love with the roller instantly. Fast forward to a few months later and Susan is looking her best in years, as her goal was to slim down. Email us your story at sales@gymmystery.com to be featured.
**This client has given Gym Mystery permission to share her success stories, for more reviews please refer to the reviews below.
PERFECT FOR BOTH MEN AND WOMEN WITH ASPIRING FITNESS GOALS
FEATURES
▪️Dual rollers for an extreme yet effortless workout
▪️Antiskid wheel for smooth functionality and balance, adding stability.
▪️Comfortable non-slip foam grips for stability control
▪️Never lets your abs rest using positive and negative resistance
▪️Adjustable resistance to increase/decrease based on current fitness levels
▪️Strengthen abdominal, lower body, and upper body: Full Body Use
▪️Hassle-free workout
▪️Exercise at the comfort of your home


SPECIFICATIONS:
✅Size and Weight - The rope: 80cm(31.5in); The base: 40cm(15.7in), weight: 1.1kg
✅High Quality Material - Made of ABS and PP material, this product is thick and bold with high quality, have a heavy resistance and also non-toxic, not easy to be deformed. Provide you with good product experience
✅Comfortable and Safe - The pedal and the handle are made of EVA and TPR Foam, it's more elastic and comfortable, as well as soft and light, which can avoid pain caused by accident
✅Tension-adjustable Rope - The elasticity of the rope is very good, and its also very strong and has long service life. Its length can be adjusted by the button on the back of the base, there are 5 length levels. This material of the rope has the feature of softness, strong resilience, wear-resisting, good comprehensive performance and high strength
✅Easy to Use and Carry - Entry-level fitness-shaping sports equipment with a durable, stylish look. Lightweight and portable AB exerciser to adjust your upper body, you can bring it anywhere, never miss your sport
⚠️⚠️ Recent Note: Due to the recent epidemic outbreak, many logistics companies have been heavily impacted by this unforeseen circumstance. There may be some delay of shipping your order. We would like to offer our deepest apology for any inconvenience caused that have affected your shopping experience with us.