In the USA, about 37,000 drivers died in a crash each year, of which 4,400 accidents occurred on the shoulders,then what about your country?
Our mission goals are Alert drivers of your emergency,Keep you and your family SAFE!
FEATURES
*High Quality Material: LED Road Flares are made of environmental protection ABS which makes the LED warning light shatterproof, crush-proof and rainproof, perfect for auto car trunk emergency, boat or bicycle emergency.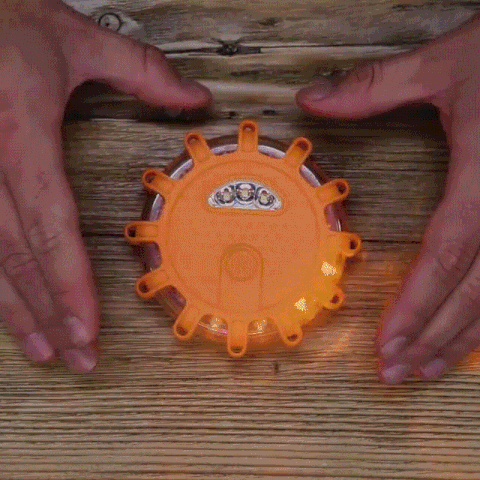 *Multiple attachment options: Strong neodymium magnet Ensures that light will stay in place on an iron metal surface such as a car body, car bumper, or road sign. Retractable hook allows hanging or use as a kickstand.
*Different Flashing Modes: They have 9 selectable warming flashing light patterns including strobe, rotating, SOS and 3-LED flashlight. Use them in bad weather such as rain, fog and snow.
*Flash Modes (User-Selectable) #1 - Rotate: 8 hours #2 - Quad flashes: 23 hours #3 - Single blink: 12 hours #4 - Alternating blinks: 4 hours #5 - SOS rescue (Morse code): 8 hours #6 - Steady on-high: 7 hours #7 - Steady on-low: 33 hours #8 - 4 LED Flashlights: 10 hours #9 - Top LED Flashlight: 10 hours
WE ARE DIFFERENT
FOR YOUR CAR TYPE
SPECIFICATION
LED Road Flares | LED Emergency Lights Vehicles | Car Emergency Kit |
Specifications Size: 10cm (3.95") 
Diameter: 3.5cm (1.37") 
Tall Weight: 170g (6oz) 
Batteries Battery type: 3pcs AAA alkaline batteries for each flare (Not Included)